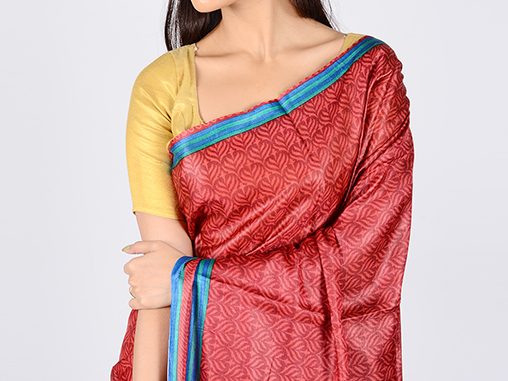 The Indian Silk Sarees are known for their elegant beauty and variety of designs and colors. These sarees are known to be the traditional bridal wear during festive occasions and seasons. Unlike other traditional silk sarees, Soft silk sarees are worn many numbers of times as it keeps the sheen intact. 
Benefits of Wearing Silk Sarees:
Silk Sarees Slows Down Ageing:
Silk has the natural cloud-like quality that makes it feel fresh and its amino acids are natural nutrients found in the fabric to reduce specific signs of aging such as wrinkles. Since silk is a natural material, it is easier for the fabric to produce and retain moisture on its own. Silk is recognized as a natural anti-aging product in the form of beddings, towels, and pillowcases. Dermatologists attest to silk's ability to slow down visible signs of aging and maintain moisture from the skin which helps in keeping the skin youthful and vibrant.
Silk Clothing Prevents Eczema And Asthma:
In most cases of dermatitis, lifestyle changes need to be done to accommodate the necessities of sensitive skin. While various creams and other treatments are used to treat severe cases of eczema, eczema sufferers exposed to day and night affects the entire treatment process. Silk prevents dirt, the built-up of soil, and other microscopic foreign bodies that trigger allergies especially in people with eczema. Due to these healing properties, silk is an excellent alternative to the usual nightwears. Apart from eczema, silk's hypoallergenic quality helps in treating people with asthma. 
Natural Anti-fungal Element:
Since silk is a popular choice of nightwear, it not only makes it feel nice and smooth while sleeping but also staves off recurring infections in women. The moisture-absorption capability of silk eliminates the yeast which causes the common fungal infection in women. Researchers have found that the group that was wearing silk has been cured of this infection.
Silk Improves Sleep:
Silk is a natural material blessed with softness and sheen that regulates body temperature and controls moisture even in vast, changing climates. This makes silk an excellent sleep companion which will enhance the quality of night-time sleep slumbers. The softness of the material coaxes the nervous system into relaxing and allowing it to achieve the full cycle of sleep necessary. It imposes negligible pressure on human bodies and gives anyone who uses it a guaranteed full night's sleep.
Helps in Avoiding Allergies:
Some people suffer from multiple allergies making it difficult to find clothing that works for them. So, silk can be the best hypoallergenic solution to skin sensitivities and allergies. The proteins in silk repel the microscopic critters which are the leading causes of human allergies.
So, buying silk sarees improves health, relaxation, sleep, with both short-term and long-term benefits reaped by genuinely those who embrace it. Tussar silk sarees also have made their places in the wardrobe of every Indian woman among all the other types of silk sarees.
This fabric has less weight which makes it easier to drape and carry with ease.